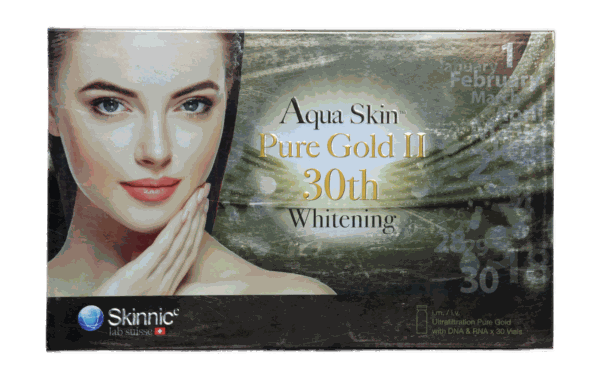 Aqua Skin PureGold II
• Whiten skin and lightens scars
• Enhance the elasticity of the skin
• Moisturize and hydrate skin
• Firm smooth and soften skin
• Lighten pigmentation resulted from exposure to sunlight
• Smoothen fine lines and wrinkles
• Suppress the formation of acne/blemish/pimples
• Minimize pores and improve skin complexion
• Remove excess free radicals that will cause abnormal function of brains and organs
• Anti-wrinkles
• Stimulate collagen formation.
---
---
Share this product:
About Aqua Skin Gold II


Aqua Skin Pure Gold II 30th Whitening Skin Glutathione Injection
The Aqua Skin EGF Pure Gold II is a new 2018 variant that contains 30000mg Glutathione one of the highest glutathione dosage in the Aqua Skin line. It contains the following: Pro-Coenzyme Q10 a very powerful fat-soluble antioxidant that greatly benefits organs requiring the highest amount of energy, such as the heart, liver, and kidneys.


          Ingredients
Ribonucleic Acid (RNA) 3800mg

Pro-CoenzymeQ10 5500mg

L-Ascorbic Acid (Vitamin C) 1000mg

Beta-Hydroxy Acid (Salicylic Acid) 500mg

Alpha Lipoic Acid (ALA) 900mg

DMAE (dimethylaminoethanol) 420mg

Heterotrimeric Protein 900mg

Grape Seed Extract 650mg

Hyaluronic Acid 300mg

Selenium 450mg

Natural Collagen Extract 1500mg

Kojic Acid 500mg

L-Glutathione 4000mg

Alpha Hydroxy Acid (AHA) 600mg

EGF (Epidermal Growth Factor 1800mg

Polypodium Leucotomos 1200mg

Benefits of Aqua Skin Pure Gold II 30th Whitening Skin Glutathione Injection
Reduces pigmentation

Protect against free radical damage.

Get glowing skin.

Hydrates the skin.

Anti-aging

Fair and also radiant complexion.

Regeneration of new cells.

Reduce Black/ Dark Spots

Detoxification and Purifying

Undoubtedly Enhances skin lightening, firming, and also whitening.
This is a preview of the recently viewed products by the user.
Once the user has seen at least one product this snippet will be visible.
Recently viewed Products