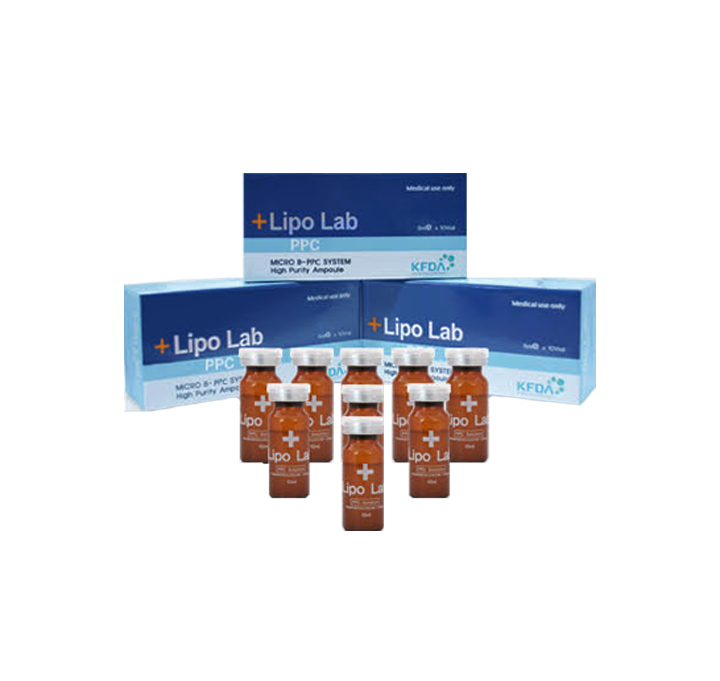 Lipo Lab PPC (Phosphatidylcholine)
• 10 ml x 10 Vial
• Phosphatidylcholine 1.000 mg
• Promote weight loss
• Help remove cellulite & fats in body parts where exercise can't do
• Aid improvement of brain health
• Promote liver health by helping repair & protect the liver
---
---
Share this product:
About Lipo Lab


LIPO LAB is a product for melting subcutaneous fat. LIPO LAB is safe and effective. The treatment of subcutaneous fat with LIPO LAB PPC is done at 10-day interval.
Lipo Lab has been developed in order to care the body more easily and quickly by selecting raw materials made in Germany which is known for safety, effectiveness and the best purity of 99.8%.
Lipo Lab was designed in order to solve a problem in package due to the product's going bad and to save trouble to keep it refrigerated when storing the products by performing aseptic processing under 1,000 of atmospheric pressure of higher and gamma sterilization, and to be used conveniently and safely by thoroughly blocking infection by virus.

What is PPC?
PPC(PhosphatidylCholine), spotlighted as the latest solution to obesity, is being called 'the 2ndbotox'
No single case of side-effects has been reported in the clinical trial over 10,581 patients implemented in the UK and has been made even more renowned since celebrities like Britney Spears and Mariah Carey look like this PPC treatment and it ended up with a success.
It has now become very popular in over 60 countries.
The great thing about PPC Solutions Reports:
1. No need of anesthesia as it barely generates pain
2. More efficacious and easier treatment than liposuction surgery
3. Unlike existing methods such as mesotherapy which only reduces the size of fat cells, Lipo Lab PPC dissolves, destroys fat cells and exhausts them out of body through sweat, urine and internal combustion, which does not incur the so-called 'yo-yo' phenomenon.
4. Cheaper costs than existing liposuction surgery
5. Effective for removing cellulites and enhances skin elasticity
6. Such a simple treatment that barely bothers everyday life
7. Solves the obesity of specific parts where exercises cannot do
8. Gamma-irradiated Lipo Lab Solution secures safe treatment and raw material of 99.8% purity from Germany maximizes the efficacy of lipolysis.
9. Caution! Patients with the following symptoms/diseases should not take PPC treatment: pregnant women, women under breast-feeding. patients of diabetes, cancer, heart disease, stroke & arteriosclerosis and those allergic to peas & beans​
This is a preview of the recently viewed products by the user.
Once the user has seen at least one product this snippet will be visible.
Recently viewed Products