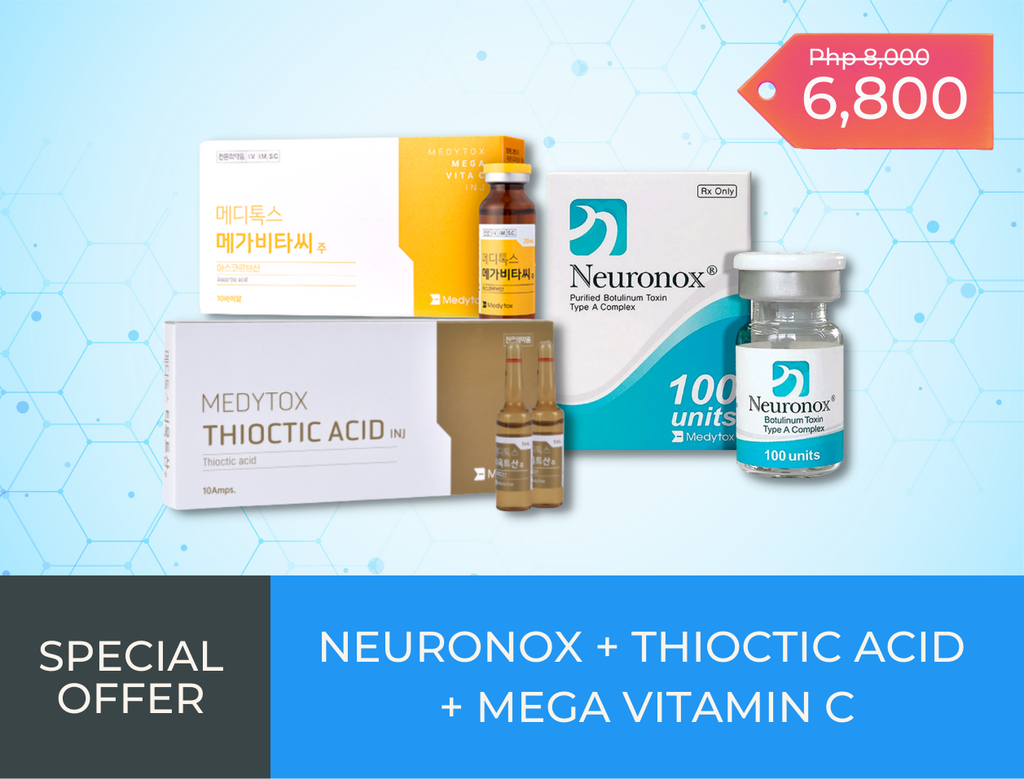 Special Offer: Neuronox + Thioctic Acid + Mega Vitamin C
Neuronox 100 units (Botulinum Toxin)
• Active Ingredient: Purified Botulinum Toxin Type A Complex
• Dose: 100 Units
• Reduction and elimination of frown lines, forehead lines and Crow's feet
• Lifting of Marionette lines or drooping corners of the mouth
• Non-surgical brow lifting procedure
• Treatment of benign essential blepharospasm in patients 18 years of age and above
• Indicated for strabismus in patients 12 years of age and above
• Treatment of the upper limb post-stroke spasticity
• Indicated in the treatment of cervical dystonia and torticollis
• Temporary improvement in the appearance of moderate to severe glabellar lines associated with corrugator muscle and/or procerus muscle activities, in patients 20-65 years of age
• Treatment of equines foot deformity due to spasticity in pediatric cerebral palsy in patients 2 years of age and above
• Treatment of idiopathic hemifacial spasm

Medytox Thioctic Acid
• Strong anti-oxidant that helps prevent cell damage.
• Great anti-aging effect for lesser wrinkle appearance & enhanced skin elasticity.
• Detoxify the liver in people with vices.
• Help lower cholesterol in the blood and improve blood sugar levels.
• Has antioxidant effects in the treatment of diabetic neuropathy.

Medytox Mega Vitamin C (Ascorbic Acid)
• Ingredient: Vitamin C (Ascorbic Acid)
• Volume: 10 Vials / box | 20ml x 10 vials

Efficacy:
In cases where acute or oral administration is difficult
• Prevention and treatment of vitamin C deficiency: scurvy, etc.
• When the requirement for vitamin C increases: pregnant, lactating women, during heavy physical exertion, etc.
• Vitamin C deficiency or metabolic disorders
• Capillary bleeding (nasal bleeding, gingival bleeding, hematuria, etc.
• Drug administration (salicylate, atropine, ammonium chloride, barbiturate, etc.)
• Bone matrix formation at fracture, osseous disorder
• Melasma, freckles, pigmentation after inflammation
• Photosensitive dermatitis, etc.



---
---
Share this product:
This is a preview of the recently viewed products by the user.
Once the user has seen at least one product this snippet will be visible.
Recently viewed Products