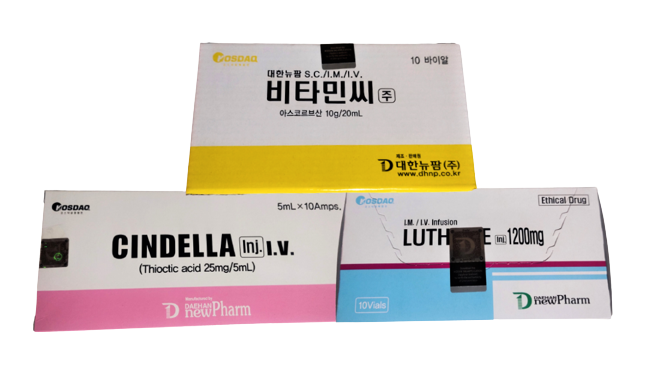 Cindella 1.2 Drip Set (Square Seal)
Includes:
• 1 box Luthione 1200mg (10 Vials)
• 1 box Cindella Thioctic Acid 25mg/5ml (10 Ampoules)
• 1 box Vitamin C 10g 10/20ml (10 Vials)

Benefits:
• Protect from toxic effect of free radicals.
• Strengthen immune system.
• Provide antioxidant and anti-aging effect.
• Promote healthy and younger looking skin.
• Improve collagen production.
• Improve skin elasticity.
• Lighten uneven skin tone.
• Reduce and treat hyperpigmentation.
• Suppress the formation of acne and eliminate blemishes.
• Rehydrate the skin.
• Detoxification effect.
• Increase energy.
---
---
Share this product:
Why Cindella 1.2 Drip Set (Square Seal)?


Cindella-Main ingredient: Thiotic acid aka α-lipoic acid 25mg/5ml ampoule(10amps/Box). Lipoic acid is an unusual antioxidant because it can act in both water-soluble and fat-soluble domains in cells and tissues. It is easily absorbed and transported into many organs and systems within the body, for example, the brain, liver, and nerves. Lipoic acid helps amplify the positive effects of other important antioxidants in the body such as glutathione and coenzyme Q10-two essential compounds in the fight against aging and disease.
Vitamin C- Main ingredient: Ascorbic Acid 10mg/ 20ml (10Vials/Box). Vitamin C is important for the growth and repair of tissues in all parts of our body. It helps the body to produce collagen, an important protein used to maintain skin elasticity, cartilage, tendons, ligaments, and blood vessels. Vitamin C is needed for healing wounds, and for repairing and maintaining bones and teeth. It helps in boosting immune system function and reducing effects of sun exposure by surpressing pigmentation thus helps in skin whitening & scar healing.
Luthione Skin Whitening considered the number one choice of spas and skin clinics all over the world. Luthione produces collagen brings back skin elasticity returning smoothness to the face, preventing ageing and making the fine lines and wrinkles disappear.
Luthione suppresses pimples, acne blemishes, minimise pores from forming, the improvement of the complexion is remarkable, resulting in firmer but softer skin.
Together with Vitamin C, is a powerful antioxidant.  These two are best used in whitening the skin. Their combination causes a youthful glow. Furthermore, Vitamin C added to the glutathione creates a longer-lasting effect.
This is a preview of the recently viewed products by the user.
Once the user has seen at least one product this snippet will be visible.
Recently viewed Products