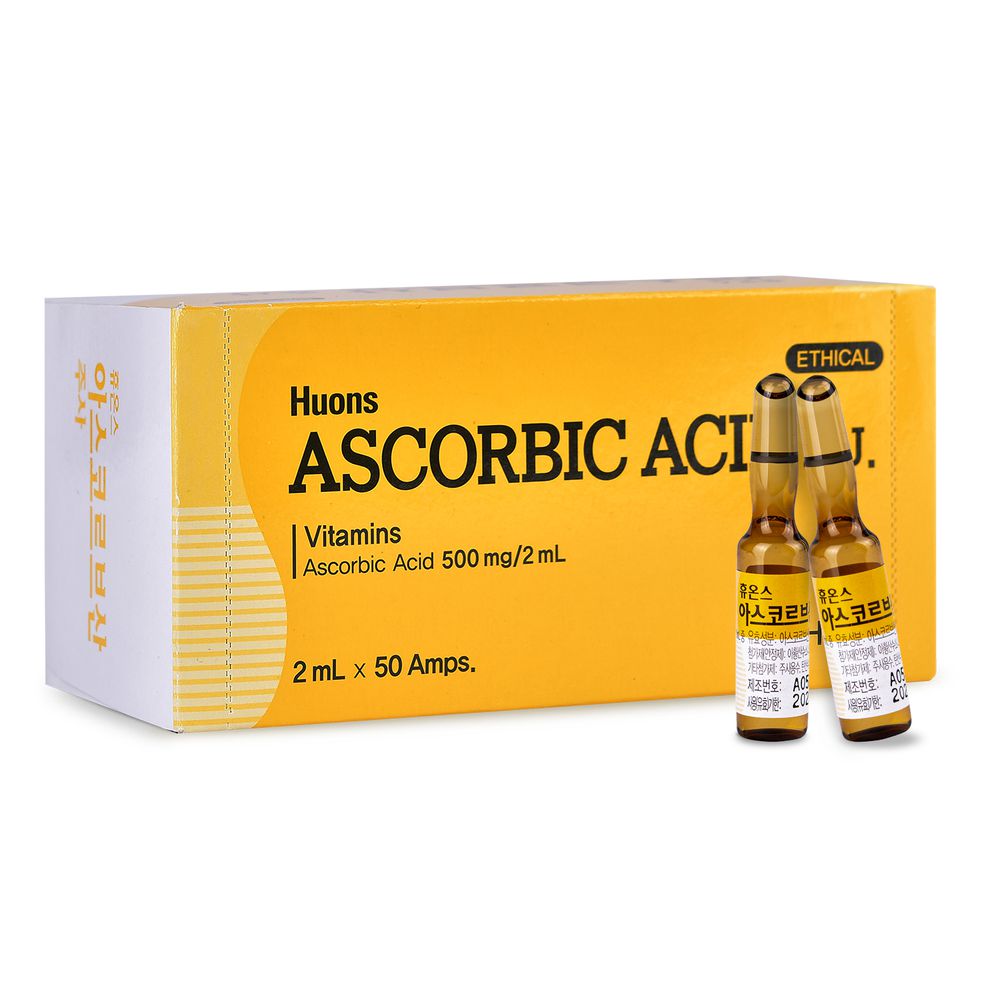 Huons Ascorbic Acid 2ml
• 2 ml x 50 Amp
• Ascorbic Acid 500 mg/2 ml
• Great anti-oxidant properties that aids in prevention of cell damage
• Help enhance body's production of collagen
• Act as a booster for Glutathione & Thioctic acid
• Boost & strengthen immunity
• Effectively shortens duration of symptoms of common cold
• Treatment of Scurvy (Vitamin C deficiency disease)
---
---
Share this product:
About Huons Ascorbic Acid


L-Ascorbic Acid Vitamin C 500mg is a water-soluble vitamin, is essential for the formation of collagen which is the connective tissue of our skin, bone, ligament, tendons, joint and organ support.
The advantages of taking vitamin C injection is:
Aims in producing Collagen, which is the connective tissue of our skin, bone, ligament, tendons, joints and organ support.
Suppress the formation of 'Melanin' contributing to dark spots after long exposure to UVA/UVB.
Reduce our facial and skin fine lines or wrinkles. This is because it aims in producing collagen, which is important to make our skin firm and provides elasticity.
Reduce the appearance of pimples/acne/blemishes and minimise pores. Improves the skin smooth texture.
Prevent scurvy, which is a kind of vitamin c-deficiency.
Increase body immune system. A higher dose is believed to have the property of antihistamine.
Ingredient:
Active ingredient: Ascorbic acid 10g
Inactive ingredient: EDTA Sodium 5mg   


Directions for use:
You may just apply to skin, and wash off, or use as a masque, or inject to skin or muscle, or use a micro roller.
The usual dose of adults is 500 - 1,000mg of ascorbic acid IM, SC, IV in one or divided closes. Dosage may be increased and reduced according to age and symptoms.
For skin whitening and brightening, it is recommended to have IV infusions twice to three times a week over one to three months in order to obtain a full benefit (depending on the degree of skin whitening/brightening desired). Thereafter, one session every fortnight or month may be all that is needed to maintain results.
Vital roles played by vitamin C are:
Reduction of the harmful effects caused by free radicals
Regulation of collagen production
Decreasing sunburn caused by Ultraviolet B radiation exposure 
Hydrate and rejuvenate the skin
Vitamin C supplementation may cause side effects such as diarrhoea, indigestion, and nausea. 
This is a preview of the recently viewed products by the user.
Once the user has seen at least one product this snippet will be visible.
Recently viewed Products