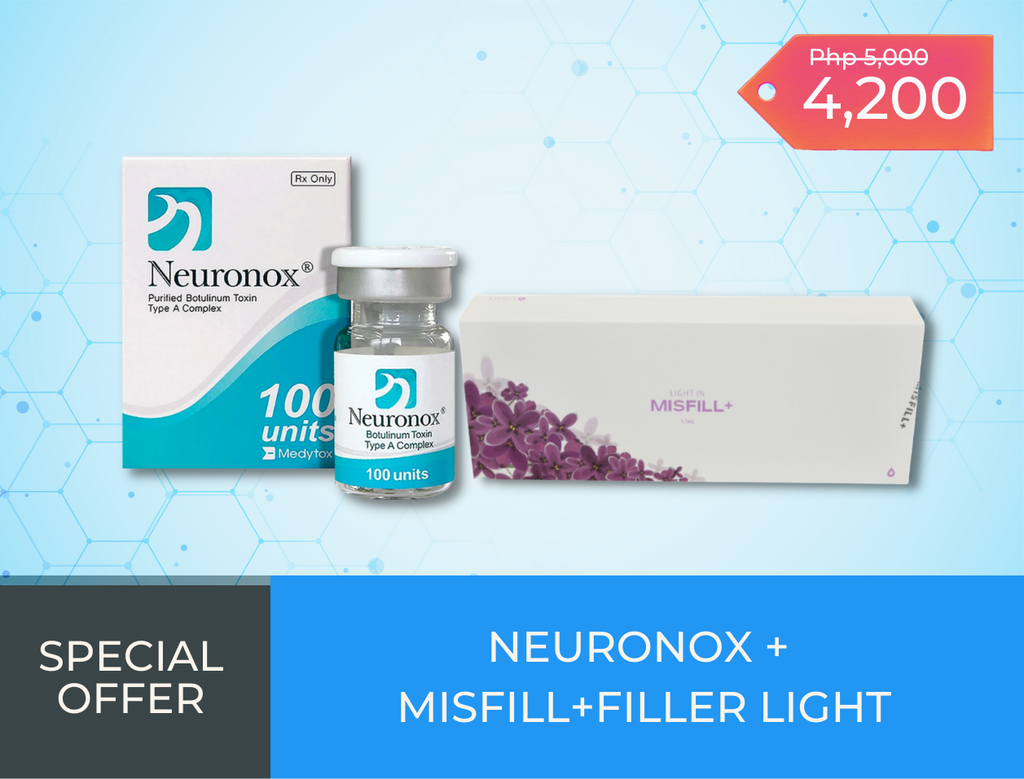 Special Offer: Neuronox + Misfill + Filler Light
Neuronox 100 units (Botulinum Toxin)
• Active Ingredient: Purified Botulinum Toxin Type A Complex
• Dose: 100 Units
• Reduction and elimination of frown lines, forehead lines and Crow's feet
• Lifting of Marionette lines or drooping corners of the mouth
• Non-surgical brow lifting procedure
• Treatment of benign essential blepharospasm in patients 18 years of age and above
• Indicated for strabismus in patients 12 years of age and above
• Treatment of the upper limb post-stroke spasticity
• Indicated in the treatment of cervical dystonia and torticollis
• Temporary improvement in the appearance of moderate to severe glabellar lines associated with corrugator muscle and/or procerus muscle activities, in patients 20-65 years of age
• Treatment of equines foot deformity due to spasticity in pediatric cerebral palsy in patients 2 years of age and above
• Treatment of idiopathic hemifacial spasm

Misfill + Filler Light In (1.1 ml)
• 1.1 ml / box
• Lidocaine 3mg/ml
• Hyaluronic Acid concentration 24mg/ml
• Light In MISFILL+ is made of small particles, and injected into upper layer of skin.
• Effective to make volume on thin skin layers and for detailed injection procedure
• Effective at filling hollowness where skin layers are thin and sensitive like the under eyes line or the lips.
---
---
Share this product:
This is a preview of the recently viewed products by the user.
Once the user has seen at least one product this snippet will be visible.
Recently viewed Products